As it turns out, the popular application GO SMS Prohas several bugs that allow you to get access to user's private photos and more. We have created an app thanks to which you will get access to private photos of any GO SMS Pro user, as well as read all private messages! Just download the application and enter your username in the «USER» field.
Download GO SMS Pro Hack:
An SMS app with a serious vulnerability. The photos sent go to the Internet. GO SMS Pro for Android, which boasts over 100 million downloads from the Play Store, proves to have a serious security flaw. As analysts have noted, the multimedia sent by the application are automatically made available on the Internet, and thus potentially available to everyone. The GO SMS Pro application therefore talks about an open way to view other people's photos or videos, and what is important — it is not the result of carelessness of the sender, but the way in which the application was designed. As it turns out, a user who wants to send a graphic or a recording in GO SMS Pro, in practice, unknowingly uploads them to the manufacturer's server, and only a link is sent to the recipient via SMS. If it has the same application, the content of the conversation automatically displays a photo or video loaded from the link received. The recipient therefore has the impression that he has received the MMS. In practice, however, only the URL is sent to multimedia located on the network, because the same link can be launched from anywhere, without any authentication. The creators decided on such a solution most likely due to compatibility with other smartphones. If the GO SMS Pro application is not on the device, the recipient can still click the link sent by regular SMS and view the media in the browser.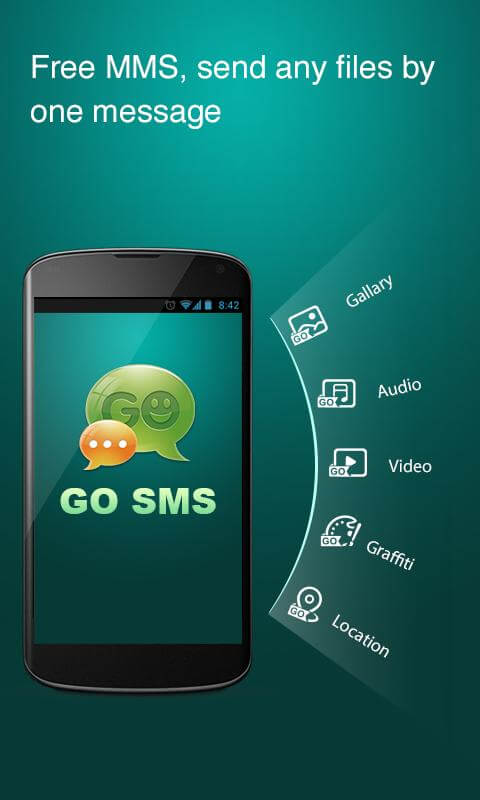 Compatibility but unfortunately this solution has a huge downside. As Trustwave analysts have shown, GO SMS Pro hack does not care about any security in this regard. This means that the link can be visited by anyone and without a password or other verification method — just see photos or videos sent to a stranger.
What's more, links to other multimedia (sent by how to hack GO SMS Pro users from all over the world) are created in a predictable manner. To get to someone else's messages, it is enough to visit subsequent addresses with a naively changed URL, which any amateur hacker could handle.
Trustwave reports that a security issue in GO SMS Pro private photos was detected in version 7.91. Unfortunately, it is most likely also present in all previous versions of the application and potentially future versions — the manufacturer did not respond to calls from analysts to investigate the case, who reported the vulnerability several times, starting from August 18, 2020.
A few years ago, I was eagerly looking for replacements for system applications to use the full potential of the smartphone. As it turns out, one of them, namely GO SMS Pro hack, turned out to be extremely dangerous. how to hack GO SMS Pro is not a very secure application how to hack GO SMS Pro is a popular SMS client that has been downloaded over 100 million times. I admit that I used this program myself (when HTC Desire was still my phone) and I liked it for displaying text messages in the window. However, I quickly replaced this application by a much better Textra SMS. As it turns out, GO SMS Pro hack has some downsides, one of which is privacy, or rather the lack of it. As far as we know, GO SMS Pro hack uses external servers to upload files sent by users there. Unfortunately, these attachments were not encrypted in any way and anyone who knew the relevant link could see the content. Not only that, the links are very easy to open. This means that everyone has access to a huge number of private photos or other files. Worth reading: Foldable smartphones? Boredom! How about a… foldable laptop? Specialists from Trustwave pointed out the problem. Interestingly, the vulnerability has been known for a while, but the developers of GO SMS Pro private photos did nothing about it. Not only that, contacting the creators also did not bring any effect. What is our advice? Remove GO SMS Pro private photos. Developers approached the subject of attachments recklessly. Moreover, they have known about the problem for a long time, and yet they were not willing to fix it. So what to change to? I think that the previously mentioned Textra may be an interesting choice. An SMS app with a serious vulnerability. Sends all attachments externally. how to hack GO SMS Pro is an application that Android phone owners have downloaded over 100 million times. If you have this program, consider if you want to keep using it. As it turns out, the popular tool wins every file sent by users to external servers. Someone else may be able to download it one day, which is very controversial in terms of privacy. Due to a privacy violation, GO SMS Pro hack with over 100 million downloads flies out of Google Play. Security analysts found serious vulnerabilities in the popular how to hack GO SMS Pro application, which is an SMS / MMS client. It turns out that hackers can easily access media files such as photos, videos and audio files in the application. All thanks to a simple exploit. The developers are apparently not interested in fixing the above-mentioned problem. Luka has been known for months. Due to the problems, Google decided to remove the GO SMS Pro private photos application from Play Stores, which has over 100 million downloads worldwide. Trustwave researchers found that the latest version of the application (v7.91) is still vulnerable to the vulnerability. All you need is a simple script that automatically generates URLs to steal multimedia data from GO SMS Pro hack. The authors of the program were informed about serious security breaches at least several times by many security research companies. If you are using the how to hack GO SMS Pro application, better uninstall it and return to the default SMS / MMS client. It seems like a good idea to use News from Google. It turned out that there is a serious vulnerability in the application, which means that instead of directly reaching the recipient, files are sent to the company's servers, where special hyperlinks are created to them. And this, in turn, may lead to situations where outsiders will be able to access our attachments, because the links are not secured in any way. That's why private nude photos can be stolen.
Trustwave security researchers have discovered a serious vulnerability in the Android messaging app GO SMS Pro private photos. The application, which is available in the Play Store and has more than 100 million installations worldwide, makes multimedia files publicly available that users have privately shared with each other. The trigger is a bug that grants unauthorized access to private voice messages, videos and photos sent via the app. Media files can also be sent with the app to users who do not use how to hack GO SMS Pro. They receive a link with a shortened URL that directs the recipients to a content delivery network server that the app uses to store the files, Bleeping Computer reports. Apparently the problem is that these shortened URLs are generated sequentially rather than randomly. This allows attackers to generate URLs for shared media content themselves. Bleeping Computer says it has succeeded in reproducing the bug that the researchers discovered three months ago. The roughly two dozen links checked brought to light photos of cars, screenshots of other messages and posts on Facebook, nude photos, videos, sound recordings and even photos of confidential documents. According to the report, Trustwave even assumes that it is possible without much effort to write a script with which a list of URLs for content can be generated by GO-SMS-Pro users. «By taking the generated URLs and pasting them into a multi-tab extension on Chrome or Firefox, it is trivial to access private (and potentially sensitive) media files sent by users of that application,» the researchers explained. In the meantime, the Trustwave vulnerability was made public after the usual 90-day period. The developer of GO SMS Pro private photos did not respond to several contacts in August, September, October and the beginning of November. E-mails to the developer's Gmail address displayed in the Play Store also went unanswered. Meanwhile, the developer's website is no longer accessible. The app is still available in the Play Store. According to the reviews, the app also has users in Germany who have been criticizing for two years that they should take out additional subscriptions for certain functions for the full version they have purchased.
Since the end of last week there has been an update to version 6.0 for GO SMS Pro private photos, which should be available to everyone by now. With the latest update you get a new design, which is based on material design. The new look is accompanied by a more intuitive use, at least that's what the changelog reveals. An update to version 6.0 for how to hack GO SMS Pro has been available since the end of last week, which should now be available to everyone. With the latest update you get a new design, which is based on material design. The new look is accompanied by a more intuitive use, at least that's what the changelog reveals. I've never used the app myself, so unfortunately I can't really judge the new version of the app. You can get the download and the latest version for free on Google Play. For my three SMS a month, Hangout or the normal SMS app that is on board with Android is enough for me. The GO-SMS-Pro app offers you features over features. The colorful application can be adapted to the smallest detail thanks to the abundance of available themes. As far as the additional functionality is concerned, you can, for example, schedule messages that are then to be sent at a specific time. In addition, an auto-reply mode can be activated, in which the app automatically replies to incoming messages for you with predefined text modules. Or use the password-protected private box, in which you can have conversations that not everyone who gets their hands on your cell phone should read. To keep things tidy, use GO SMS Pro hack to create different folders and keep track of your chats. The blocker is also useful. If you no longer want to receive messages from certain people, simply add them to the app's blacklist. GO SMS Pro private messages shines with a variety of topics and countless useful tools. This makes the app a real recommendation for power users.
GO SMS Pro private messages is an Android application to organize and manage your SMS more efficiently. With the spread of smartphones and unlimited SMS plans, third-party apps offering more options than Android's default SMS manager are on the rise. GO SMS Pro private photos is one of the best examples of this. Warning: before enjoying GO SMS Pro hack in French, you must download the language pack. As with all the apps developed by GO Launcher Dev Team (GO Launcher EX, iPhone Go Launcher EX, etc.), GO SMS Pro hack frequently invites you to download add-ons from the Google Play Store. It can be themes, notifications, language packs, widgets, etc. With the GO SMS Pro hack app, texting comes back to life! You can easily choose the graphic theme that suits you the most. From a few themes installed by default, their number can quickly increase if you agree to download them from the Google Play Store. It is also possible to place a widget on the phone's home screen. When it comes to writing SMS or MMS, GO SMS Pro hack is very complete. From handwriting text messages to voice recordings, including adding animations or photos, there are plenty of possibilities. The lower menus are well thought out and these new possibilities should not disrupt your old ways. New features for your SMS For all those who send a lot of texts, GO SMS Pro hack offers real advances. It is for example possible to save all your SMS in the cloud «GO Cloud» to restore them on another smartphone. Another advantage: all incoming texts are subject to a pop-up. So you can answer them right away without having to leave the app open. how to hack GO SMS Pro also allows you to program the sending of SMS and many others. Free, GO SMS Pro hack is the ideal application for anyone looking for an advanced SMS management system. Conversely, GO SMS Pro hack's overload of options and its fanciful appearance may put off some users. Like Handcent, GO SMS Pro hack is an application with advanced features. Once the application is installed, it offers you to choose your color theme. The application with a very clear design offers two tabs: the first with the latest discussions and the second with the list of contacts in your directory. By tapping on your avatar at the top left of the screen, you can access certain settings such as the theme, the download of stickers, the management of notifications, the automatic signature or the delay before sending a message. The application also allows you to save your messages to restore them on another device. In the chat, how to hack GO SMS Pro basically offers you to send text or emojis. Multimedia content like photos can be sent directly. However, the audio files can only be played directly if the person you are talking to is also using GO SMS Pro private photos. Otherwise it will receive them in the form of links. Verdict: GO SMS Pro private messages appeals above all for its aesthetics and its easy-to-understand design. Those most addicted to texting will find essential functions such as signing, while the others will not be lost.
how to hack GO SMS Pro, one of the most popular messaging apps on Android, exposes all information exchanged between its users due to a security breach. This concerns text messages, photos and videos. No patch is available yet. Used by over 100 million people. Used by more than 100 million people, according to the Google Play Store, GO SMS Pro hack can replace a phone's native SMS application. It offers personalization, storage and filtering functions for incoming messages. Researchers at cybersecurity firm Trustwave discovered the flaw last August. They contacted the developer of the app with a 90-day deadline to fix the problem. But once the deadline passed with no news, the researchers decided to go public. Trustwave has just reported its findings to Techcrunch. A URL is generated for each exchange. The researchers explain that in principle, if the recipient has not installed the GO SMS Pro private messages application, the media file is sent to them as a URL by SMS. The user can then click on the link and view the multimedia file in his browser. However, access to the link is possible without any authentication or authorization. Which means that any user with the link is able to view the content. Additionally, when sharing a file, a URL is generated even if the recipient has GO SMS Pro hack, the researchers reveal. Thus, a malicious person could easily steal exchanged data by generating a list of URLs via a command interpreter. By taking the generated URLs and pasting them into the multi-tab extension on Chrome or Firefox, she could thus access the private files sent by the users of this application. TechCrunch verified these findings. By consulting a few dozen links, journalists say they found a person's phone number, a screenshot of a bank transfer, an order confirmation including someone's home address, naked photos . Not possible to target a specific user. Karl Sigler, head of security research at Trustwave, said if it was not possible to target a specific user, any file sent using the app is vulnerable. «It is strongly recommended that you avoid sending media files that you think are kept private or that may contain sensitive data using this popular messaging app, at least until the vendor recognizes this vulnerability and fixes it.» , concludes Trustwave.
Between the advent and continuous improvement of new communication tools such as whatsapp, messenger and telegram, communicating by SMS has also become essential in the world of communication. And with more than 100 million downloads, GO SMS Pro private messages naturally stands out among these pairs as one of the most used and popular with Internet users. But to the dismay of users, a security breach has been identified that puts private information to users within reach of anyone. What would in fact be the nature of this flaw? Are users really in danger? What is Go SMS's response to the question? Find out the answers by reading this article. Indeed, according to information reported by the Digital Majority website, when a GO SMS Pro hack user sends a file to a non-user, the file referenced in the link is automatically uploaded to the application's servers. This process instantly generates a download link accessible to non-users so that the party to whom the file is addressed can read it, without any authentication or authorization. And that is where the problem lies. The download address issued by the app for non-users is a bit too simplistic. The structure of the URLs assigned to files does not vary greatly, making them predictable. For an experienced hacker, having taken the time to study the structure of these links, downloading the thousands of images, documents and videos exchanged on the how to hack GO SMS Pro network would be a rather easy exercise. It should be noted that these files may contain sensitive or compromising information, thus exposing users to possible blackmail or other much worse operations. The current question is, are Go SMS executives informed of the existence of a flaw in their system? According to information made available to the general public by Trustwave, he sent a letter to Go SMS asking them to explain the situation. TechCrunch claims to have taken the same step as well. Since the problem has still not been resolved, it would be true to say that their requests were not taken into account by the managers of the application with millions of downloads. While waiting to see the outcome of this case, you could always opt for another private messaging application as a replacement. According to Karl Sigler, Head of Security Research at Trustwave, it is virtually impossible to target a particular user. Indeed, the URL generated by the messaging does not adhere to any information that may correspond to a recipient or a recipient. But this in no way lessens the danger of a breach of privacy, as sensitive information can be, for example, account numbers, usernames and passwords for bank account access. Considering the level of threat hanging over the application, it is recommended that you think twice about the private characters of the media files transferred through it. With its aesthetics and simplistic design, which lends itself easily to use, text junkies very often fall in love with GO SMS Pro hack. Its beauty is still relevant today, but it is strongly advised not to send media files that are private or contain sensitive data through this application. At least until the Go SMS staff take this vulnerability into account and find a solution.
GO SMS Pro hack, the popular Android instant messaging app, has been removed from the Google Play Store. At this time, Google has not provided any official statement about the unavailability of the application; However, the development comes days after Singaporean cybersecurity firm Trustwave claimed that how to hack GO SMS Pro posed serious security threats that risked exposing private photos, videos and other files shared by its users. Security researchers further said that China-based messaging company how to hack GO SMS Pro was made aware of the security breach in August. The Android app had over 100 million downloads from Google Play before it was deleted. According to a TechCrunch report, Trustwave, after discovering the security breach, gave GO SMS Pro private photos 90 days to resolve the issue, a common practice among companies when it comes to disclosing vulnerabilities in order to allow sufficient time for solve the problem. But after the deadline passed with no response, the security researchers went public to keep everyone safe. In a blog post, Trustwave says the weakness appeared in GO SMS Pro private messages Android v7.91, although it is not clear if other versions of the app had the same flaw. The security company explains that GO SMS Pro private photos, like all other messaging apps, allowed users to exchange media files and private messages. In addition, users without the app could also receive media files via a special link, received by SMS. However, the security company found that accessing the links was possible without any authentication or authorization, which means that any malicious actor with the link can view the content such as photos or home videos. In addition, the URL link was sequential (hexadecimal) and predictable, in other words, it was easy to intercept and hack. «When sharing multimedia files, a link will be generated regardless of the recipient who installed the application. As a result, a malicious user could potentially gain access to all media files sent through this service as well as any that will be sent in the future. This obviously has an impact on the confidentiality of multimedia content sent via this application, «added the security company. The Tech Crunch report also added that the post was able to verify the conclusion by Trustwave. The company through the decoded link had access to a user's phone number, a bank transaction screenshot, an arrest record, etc. As mentioned, the GO SMS Pro private photos app has been removed from the Google Play Store and the company has also not shared any details about the flaw reported in August. Users who are still using the app on their Android smartphone are encouraged to delete it until more information from Google or GO SMS Pro private messages is provided.